Payment Overview
We know that buying a premium domain name can be a significant expense for your business. That's why we offer a number of different payment options in order to maximize your financial flexibility and minimize the impact on your balance sheet.
Purchase Options
Buy Now
Buyer pays in full for the domain.
Once payment is received, ownership is fully transferred to the buyer to a new or existing account at GoDaddy or the registrar of their choice. GoDaddy account transfers usually only take several hours while transfers to other registrars can take several days.
Once the domain is transferred, the buyer will be able to manage DNS and begin using the domain.
Lease To Own
The Lease To Own (LTO) option allows the buyer to pay for the domain in regular monthly installments. Lease terms vary by domain and can range from 12-60 months.
There is a 3% fee for credit card payments made on LTO transactions.
There is a service fee for LTO terms exceeding 12 months (see below for more about fees).
LTO is not available for all domains and is only for qualified buyers subject to credit approval.
Make Offer
Potential buyers can make an offer on a domain. Offers must meet the miniumum required offer amount (as specified on the purchase page).
Once received, we will review the offer and either accept or counter the offer.
Make offer is not available for all domains.
Offers are legally binding for 7 days.
Payment Methods
Purchases up to $5,000 can be paid for by wire transfer, check or credit card. There is an additional 3% fee for credit card purchases. Purchases over $5,000 can only be paid for by wire transfer or check. All payments must be in US Dollars (USD).
Escrow:
Escrow service is optional and is available for domains purchased with either the Buy Now or Lease To Own option. Escrow.com is the preferred escrow agent, although we will work with any reputable, third party escrow service. Escrow fees are typically paid by the buyer.
Fees:
There is a 3% fee for using a credit card.
If escrow service is used for a Buy Now purchase, the buyer is responsible for paying 100% of the escrow fees.
For Lease To Own (LTO) transactions, we offer no interest financing for up to 12 months.
For LTO transactions over 12 months, we charge a service fee depending on the length of the lease term. This fee covers the standard escrow fee and the additional cost of escrow domain holding fees, plus the internal administrative cost of managing the transaction. These fees are built into the prices quoted to you on the purchase page or by the Nametra sales team.. Refer to the table below for an example of LTO fees: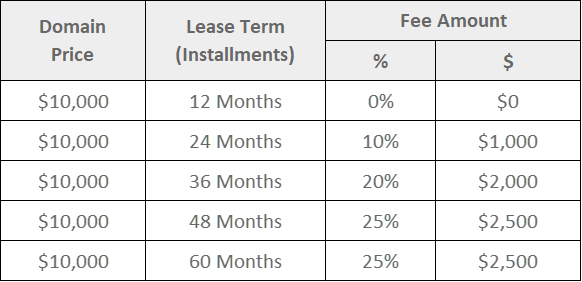 Important Notes About Lease To Own Transactions
Domains that are leased remain the property of Nametra until full payment is made.
Payments that are more than 30 days late will incur a late fee. Three or more late payments may result in cancellation of the lease agreement and forfeiture of all monies paid.
If you choose to lease a domain, you must comply with our domain usage policies. This insures that the domain is not used for illegal or illicit purposes.